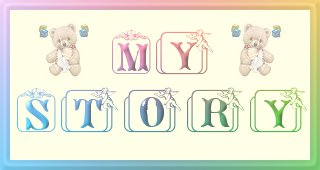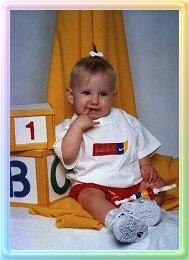 Cheyenne Autumn, went home to Heaven at Midnight, on Nov. 30th, 1998. On the 29th, she and mommy came for a visit, we spent the day, having loads of fun,running,laughing,playing hide and seek,watching Barney,& holding her close.When they got ready to go home, Cheyenne did not want to go, she wanted to stay with Nan, The 29th of Nov. is some of my greatest and also Most Painful memories that I Have.

Because I had to go to work early the next morning, Cheyenne had to go home with Mommy, I gave her Hugs and Kisses, carried her to the car, and straped her in her car seat, As Long as I live, I WILL NEVER FORGET, what happened next, Cheyenne was crying, to stay, and as her Mommy pulled away, she raised her arms to me, turning around in the car seat, to look back, out the window. As I stood there, regretting I had to go to work, Little did I know, "I would regret it Forever," I watched them until they were out of sight. It was the last time, I would ever see her.

The day of Nov. 30th, Cheyenne, Sierriah and their Mommy, went to Greatgrandmothers to spend the day. At about 5:30pm, they headed for home. Cheyenne went to bed around 8:45pm, Mommy gave Sierriah a bath, and got her ready for bed. Pap and I headed off to bed, about 9:30, around 9:45, an overwhelming feeling came over me, I started crying uncontrollably, and in our room was an orangish light. I rolled into his arms and cried.

At 10:25pm, the phone rang, telling us First responders were headed to our daughters home, Miranda had found her, not breathing and called 911, started CPR. We ran to the car, to our daughters house, where they already had Cheyenne in the ambulance. They transported her to the Hospital, where the Emergency team worked on her, the Doctor came in and told us he would try everything he could to save her, but it did not look good,the Doctors worked non stop, then at Midnight, My Beautiful Cheyenne Autumn was gone, from my reach Forever.

In the 14 months, we got to share the life of Cheyenne Autumn, there was so much she taught us. From the time she was old enough to sit up, if the Music was playing she was swaying, then when she learned to walk, she actually danced to the music. Her favorite music, was the theme from Barney and Her and Mommy's song," You are my sunshine."

Cheyenne had this face she would make that could have the whole family laughing hysterically, it was as though she was always surprised, the face was a perfect " O ", with her mouth, and those Beautiful blues lit up like the night.

In the short time she spent with us, she became her own person, she was the fighter of the two girls, she would grab her sister by the hair and Run and laugh.

She learned to ride her Tiny Tike Bubble blower, and would start at the top of the sidewalk and let it just go. Feet in the air, laughing like crazy. She loved to play in the Red Mickey Mouse pool, whether it had water or not.

Cheyenne loved to cuddle, my favorite place for her to cuddle was on my chest, when she cuddled she had to have Eeyore right there with her, Eeyore has a lantern light, he holds between his teeth, and when she would squeeze him, he lit up.

At Na-Na's and Paps, they played a game, called No more monkeys jumpin on the bed, I think this was her favorite, she couldn't get up there, but she would pull the comforter until we put her up there, then just start jumpin.

Even though a little afraid, Cheyenne had the pleasure of riding a Horse. She also Loved to play hide and seek, but her hiding was behind Na-Na's sheers, and we would find her and she would laugh so hard, she ended up on the floor.

She loved chasing White Butterflies though the backyard. And stacking Blocks so high, until they fell over, if Sierriah would build, she would knock them down, giggling and try to run from her screaming sister.

Cheyenne loved to eat, never a picky eater, anything, but her favorite place to eat was Chi-Chi's, this little baby girl loved to eat there, as much as little ones love McDonalds. And her favorite candy was M & M's, when Cheyenne went to Heaven, in her little hands, we placed the small packets of M & M's, for eternity.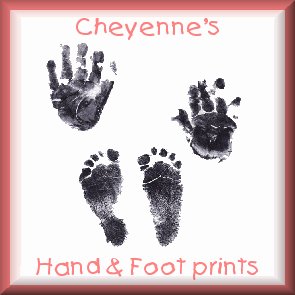 All graphics and content on this website are ©copyrighted to "Heaven's Little Angel"
and may not be reproduced without express permission.