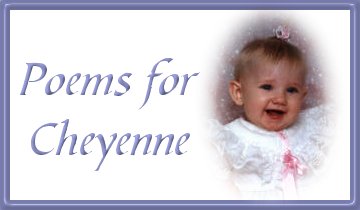 Recently I was told the reason God takes the little children, is because, They have secrets told to them from the Lord, that We are Never to behold. Most Pictures taken of Cheyenne, she has (1) finger in her mouth, Was this Cheyenne's "Secret" way of letting us know, "I have only ( 1 ) year to share with you."

Every evening the Angels go for a walk, before they go, they each light a candle. There was one, called Heaven's little Angel, sitting there crying. Why, are you crying? She was asked , because I want to go for a walk with the Angels she replied, Then why do you not go? She was asked, I cannot go until I get my candle to stay lit, and everytime I light it, My Mommy's tears put it out.

Light your Candle my precious Cheyenne Autumn, I will try to hold my tears, so that you may enjoy your walk with the Angels.

~ Written by Na-Na ~

~ Cheyenne Autumn Smith ~

Christ the Savior took my child, into his open arms,
Heaven is now where she lives, free and safe from harm.
Even though I can't hold my girl, the way I yearn to do,
Young and Forever innocent, she'll Always be with you.
Even to have had the chance, to feel you in my womb,
Never will be forgotten, for you were my special bloom.
No one will ever know the joy, I felt when you were born,
Even though you are up high, and I am left to forever mourn.


All my heart and soul, and all my love I send,
Until we meet in Heaven, and I hold my girl again.
Tomorrow's will get brighter, just knowing you're up there,
Up above in Heaven, watching over me with care.
Mommy loves you now, Forever and Always,
Now go and play, My Daughter, and enjoy Eternal Days.


So now I will release you, for I know your safe from all,
My memories shall keep me, and lift me when I fall.
Inside there is a special place, which only you can fill,
Tucked inside are your memories, which in time will help me heal,
Heaven now awaits you love, And remember, Mommy Loves You Still.

~ Written by Deborah Masterson ~

"When Angels Cry!"


When someone who was too young too die
Is taken away without a reason why
The angels sing, the angels cry
The tears that fall are not tears at all
But memories that will never die
When angels cry there is no pain
Just a never-ending constant rain
Suffering, there is no more
Just glory and safety to all


When angels cry
The whole world knows
They gather the tears up like
Delicate petals from a rose
The scent from each one destroys all fears


When angels cry
People try to understand
How someone too young could
Be placed under the great Creator's hand
The answer to this question may never be known


When angels cry crystal tears
We glance up and have no fears
For that person who was too young to die
Is now also an angel
Singing their songs of mourning
And crying their tears of memory
Up in the sky


Author, Witchery

"On Angel's Wings"

I don't know why the angel's came,
and decided to take you away.
They must have needed someone very special,
when they carried you on their wings that day.
I wondered how they could take you from me,
and leave me here on my own.
Then I realized your love would live on inside me,
so in my heart, I would never be alone.
God must have had a greater purpose for you,
when He decided your time on earth was done.
He must have wanted you for a heavenly angel,
so you would be able to watch over everyone.
The angels told him that you were so very special,
and could make the world a greater place to live.
So with wings full of love, they took you to Heaven,
and now everyone can feel all the love you have to give.



All graphics and content on this website are ©copyrighted to "Heaven's Little Angel"
and may not be reproduced without express permission.